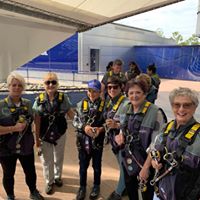 Six intrepid relatives of Maisie (two grandmas, one aunt, one cousin and two good friends) assembled somewhat nervously at the base camp of the 02 Arena in London's docklands. Our mission was to climb to the very top, take some photos to prove we'd done it, and then make our descent.
We began with a safety session which put into our minds all sorts of dangers we hadn't already thought of, and then kitted out with special walking boots and body harness we approached the take off point. Our guide, the amazing Claire, lined us up with a stern gaze and one by one clipped us to the sturdy safety cable and we were off. Underfoot the going was soft and rather bouncy (no trampolining, bellowed Claire) - as if we would! So two bouncy feet, one hand grabbing the handrail and the other guiding the heavy duty clip over the connections (there were 78 in total, and quite tricky to negotiate) we proceeded on what seemed a somewhat vertical path towards our goal. But where was the top?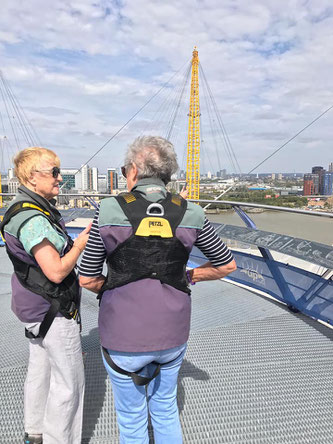 Gradually the going got easier and after about 25 minutes we arrived at a large circular flat area that gave 365 degree views of London. Clare unclipped us and we were free to roam around at will marvelling at the river, the sky scrapers and then, around the corner, glided the Viking Swan - an enormous cruise ship accompanied by two smart red tugs bound for the Pool of London. Quite a sight both for them and for us.
Then it was clips on again and the descent began down the other side. The nearer the ground the quicker our feet wanted to go and it was with some relief that we made ground level where we were greeted by James (Maisie's Dad), Chris (Maisie's Granddad) and David (family friend).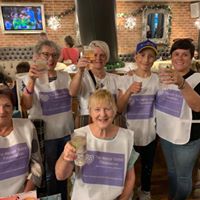 A quick photocall, and then off for a congratulatory stiff drink. No one fell over, no one fell off, no one went through the roof. We thought we acquitted ourselves rather well, had fun and raised a goodly amount of money for the MTF. We think our Maisie would have approved greatly.